From new jobs to investment in British businesses, the benefits of Hinkley Point C are clear to see.
Last week was another significant milestone for the Hinkley Point C project. We marked five years since the final contracts for the site were signed on 29 September 2016. It's been an incredible five years, and I'm pleased with the progress we've made on construction, as well as the fantastic team and supply chain that's making it possible.
Hinkley Point C is essential in the fight against climate change and for Britain's energy security. It is delivering on its promise of boosting British jobs, skills, and industry right across the country. Five years after getting the go-ahead, the number of people working on HPC has reached 22,000.
That figure includes 6,300 currently on site, compared to the 1,500 we had at the height of the pandemic last year. Undoubtedly Covid-19 has challenged the project and its suppliers, and I am proud of the enormous efforts made to keep the site safe and moving ahead. As we emerge from the worst of the pandemic, we can now create more jobs as we step up construction and manufacturing for the next phase of the project.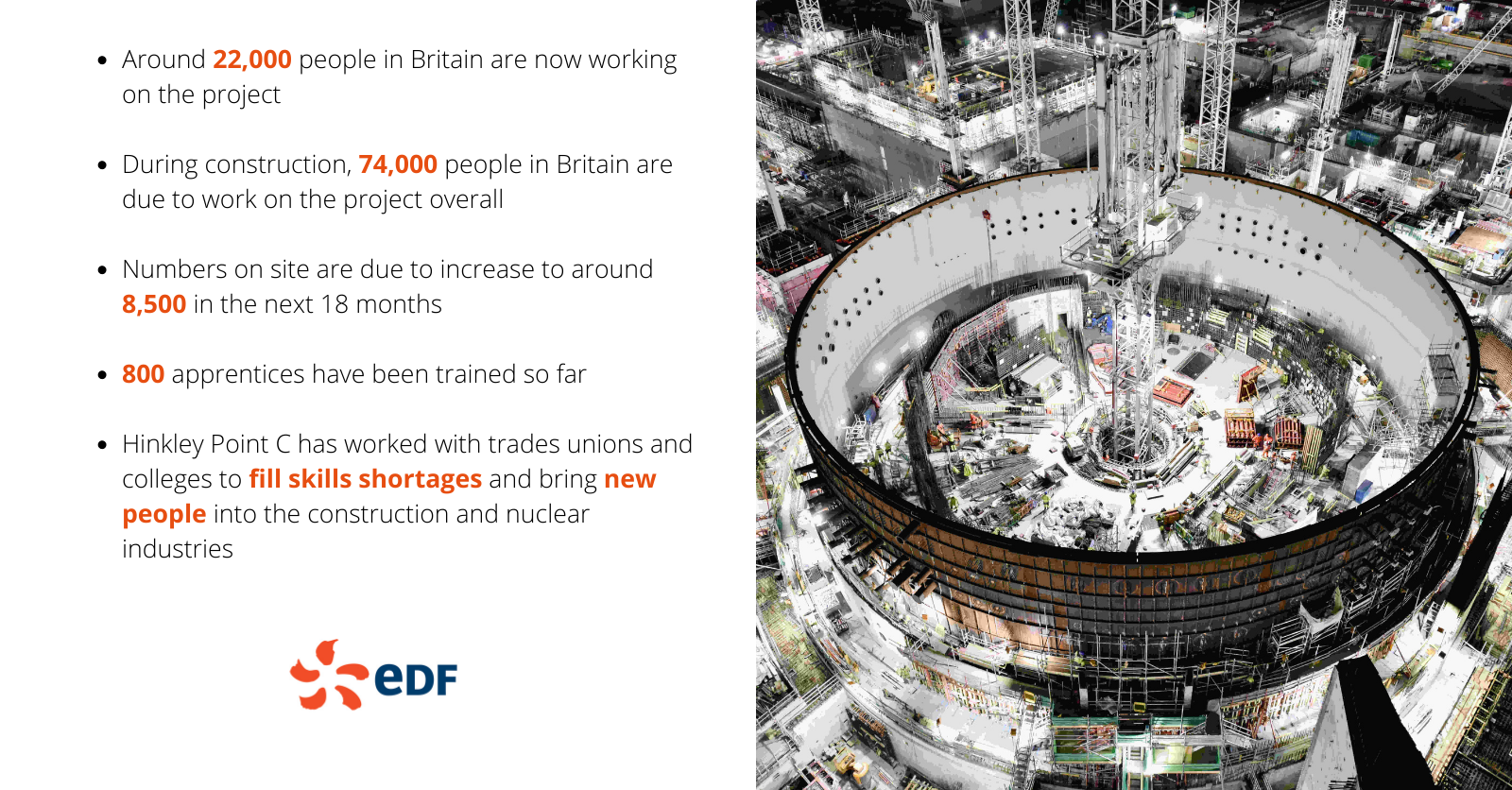 One of the real successes of the site is the breadth of companies involved in construction from across the UK. 3,600 British companies have won contracts on the project. This includes more than 400 businesses in the north of England where spending has already topped £1.2 billion. From Assystem in Blackburn, to Darchem on Teesside, thousands of British businesses have played their role in building the first new nuclear power station in a generation that will help Britain achieve Net Zero by providing reliable, low carbon electricity to meet 7% of the country's needs. By the end of the project, £18 billion will have been spent with British businesses.
Hinkley Point C and its suppliers are using factory construction and innovation to increase quality and productivity. We've already seen big gains between the construction of the first unit and unit two. The skills of these workers, apprentices, and businesses must not be lost, and they are ready to replicate the fantastic benefits delivered at Hinkley Point C with the near identical design for Sizewell C in Suffolk. 
PoliticsHome Newsletters
Get the inside track on what MPs and Peers are talking about. Sign up to The House's morning email for the latest insight and reaction from Parliamentarians, policy-makers and organisations.