3 min read
Environment Secretary George Eustice said the "short term" deal would help secure the UK's supply of carbon dioxide but would cost "many millions".
Business Secretary Kwasi Kwarteng confirmed on Tuesday that the government would give CF Industries financial support to cover the operating costs of its Billingham plant for three weeks while the CO2 market adapts to global prices. 
Their two plants are responsible for around 60% of the UK's CO2 supply which is a critical component in the food and drink industry.
Industry groups and producers had warned the lack of CO2, used to make fizzy drinks and in abbatoirs to stun animals before they are slaughtered, could lead to food supply issues within days.
Speaking to Sky News on Wednesday, Environment Secretary George Eustice said the government's support would last for three weeks but would cost taxpayer's "many millions".
"With a surge in demand for gas in parts of the world, these two plants have had to close because it has not been economic for them to manufacture the fertiliser.
"That in turn means there is a big shortage in carbon dioxide which is critical for use in the poultry industry, the pig industry, other food sectors and beverage sectors as well," he said.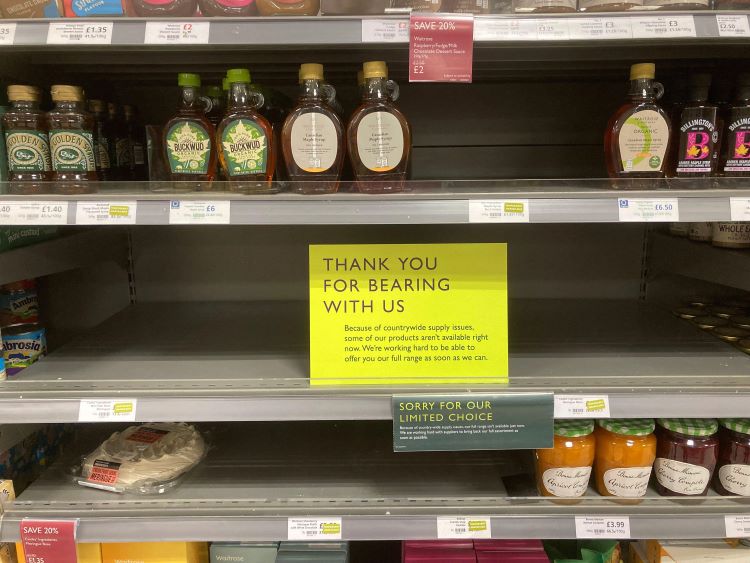 "So we have intervened to basically support this company with some of their fixed costs on a short term basis, just for a few weeks, so we can keep that carbon dioxide supply going, and give the market time to adjust and for other supplies to come on stream.
"I am not going into the final details… it is going to be into many millions, possibly the tens of millions but it is to underpin some of those fixed costs."
Eustice added the price rise was likely to have a "modest" impact on food price, but said it would be temporary while the market was able to "adjust".
He added: "The food industry know there is going to be a sharp rise in the price of carbon dioxide, probably going from something like £200-per-tonne eventually up to closer to £1,000-per-tonne, so a big sharp rise. It is a small component but a critical one to their production."
Responding to the announcement, Minette Batters, president of the National Farmers Union, called for "urgent clarity" over the deal.
"While it's good to hear there may be an agreement in principle that production at the fertiliser factories may restart, with resulting CO2 supplies, it's important this restart is meaningful and sustained," she said.
"Users of carbon dioxide were given little to no warning that supplies were going to be cut off – an indication of market failure in a sector supporting our critical national infrastructure.
"Urgent clarity is needed on the detail, including timings and volumes established in the agreement."
PoliticsHome Newsletters
PoliticsHome provides the most comprehensive coverage of UK politics anywhere on the web, offering high quality original reporting and analysis: Subscribe