3 min read
No.10 has been canvassing Tory MPs for their constituents' views on the National Insurance hike and pensions triple lock break after a poll on Friday revealed a five point drop in the party's favourability.
A recent YouGov poll for The Times showed support for the Conservatives has plummeted to 33%, the lowest rating the party has seen since the 2019 general election.
For the first time since January Labour is now polling ahead of the Conservatives at 35%.
The blow to the party comes as MPs tomorrow are expected to vote through the remaining stages of Boris Johnson's controversial Health and Social Care Levy Bill.
The Prime Minister's Parliamentary Private Secretary Alex Burghart spent Friday morning Whatsapping Conservative MPs to gauge levels of outrage among their constituents.
The MP for Brentwood and Ongar texted: "Morning – would be very interested to know roughly how many unhappy (a) social care (b) triple lock emails you're getting, would you mind asking your office today?"
A party source told PoliticsHome: "this is the first time we've had our inboxes checked by Number 10 in around a year."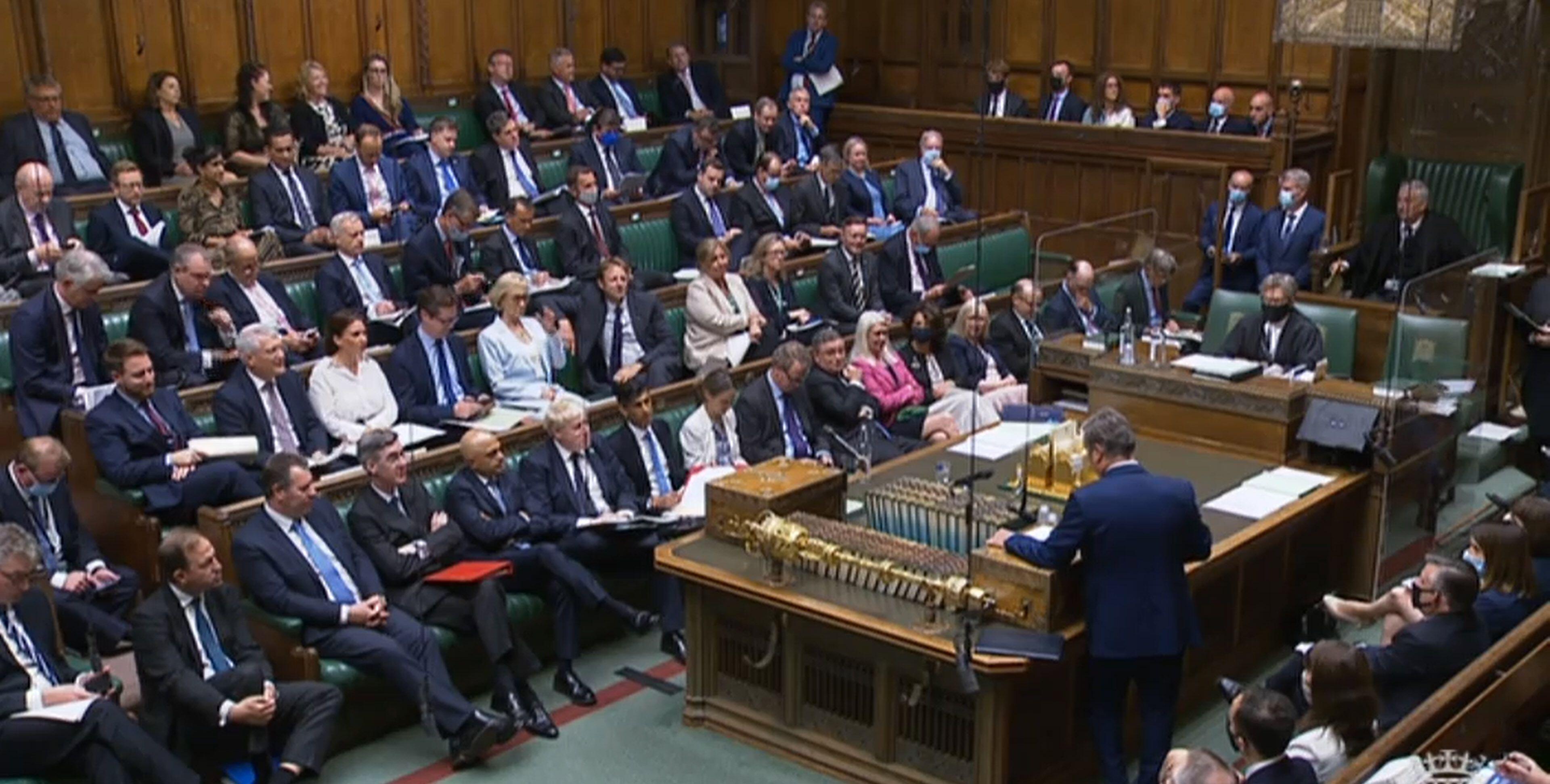 The Prime Minister unveiled his much-awaited plan for social care on Tuesday last week, revealing the changes would be funded with a new tax of 1.25% to raise an extra £36billion over the next three years.
From April 2022 every person in work will pay the additional amount on their National Insurance contributions, and then from 2023 it will be a separate levy to fund care as well as help tackle the NHS backlog.
Alongside revealing care services plans, in a statement to the Commons last Tuesday Work and Pensions Secretary Thérèse Coffey confirmed the triple lock on pensions would be suspended for the 2022-2023 financial year, and would resume the year after for "the remainder of this Parliament".
Across the country, Tory MPs have received mixed quantities of emails from enraged constituents responding to last week's manifesto-breaking announcements.  
One MP based in the north of England has received around 50 emails.
 "I think (the emails) have been surprisingly low, especially when you compare it to the amount we received on Pen Farthing," his parliamentary assistant told PoliticsHome.
"It might be because there seems to be no organised campaign against this as yet," he added.  
Emails received by the MP pertaining to government plans to cut the £20 Universal Credit uplift, however, have amassed 100. 
Two other MPs, both representing red wall seats, told PoliticsHome they've had less than five emails each on the issue.
However, the Members caveated that anger is mounting on social media.
"I've probably had more abuse on abuse on social media, but from the usual suspects," one said.
The other told PoliticsHome that if he loses the next general election it will be because of the tax hike.  
A parliamentary assistant to a long-serving Tory MP in the south of England said his office has been sent less than 20 complaints.
"A lot of people are choosing to stomach the tax rise as a necessary evil in order to pay for the NHS and social care," the assistant said.
"Feeling ambivalent towards a change is not normally enough to get you to sit down and write to your MP. Whether people feel the same when the tax rise actually kicks in and they see their pay packets diminish remains to be seen."
CCHQ has been contacted for comment.
PoliticsHome Newsletters
PoliticsHome provides the most comprehensive coverage of UK politics anywhere on the web, offering high quality original reporting and analysis: Subscribe