Amid the urgency of action to tackle climate change, the issue of biodiversity collapse can easily get lost. In the UK and most countries across the world, biodiversity is declining at an alarming rate, yet understanding of the correlation between climate change and biodiversity loss is lacking.
We must see the climate and biodiversity crises as equally important and interconnected issues; indeed, nature actually has a vital role to play in the fight against climate change, from nature-based solutions which absorb carbon, to our natural capital being understood and appreciated as an economic asset, as stated in the landmark Dasgupta Review.
Alongside helping to tackle climate change, the natural environment provides numerous benefits which are all too often taken for granted. These include improved mental wellbeing, healthier lifestyles and cleaner air, some of which have been more important than ever during the COVID pandemic.
A survey as part of new research from WSP and thinktank Bright Blue, entitled 'Nature Positive?', showed the vast majority of people valued the mental wellbeing and improved physical wellbeing benefits of nature, and there was strong support for existing domestic Government policies to protect and enhance the natural environment.
Though, when asked about where responsibility lay for the UK's natural environment, there was a disconnect. Despite expected responsibility for government being high, only a third (32%) of those surveyed believed that local authorities were doing enough to protect and enhance the natural environment in the UK. This fell to just over a quarter (28%) for central Government.
The question of who is responsible for nature in the UK is not easily answered. It is surely the responsibility of us all: government, businesses and individuals, we can all play a role, though government and business have great opportunity to effect real change.
Our research shows that the public recognise that there is a clear role for government and they believe more needs to be done, making the existing cross-party support for addressing climate change and biodiversity most welcome.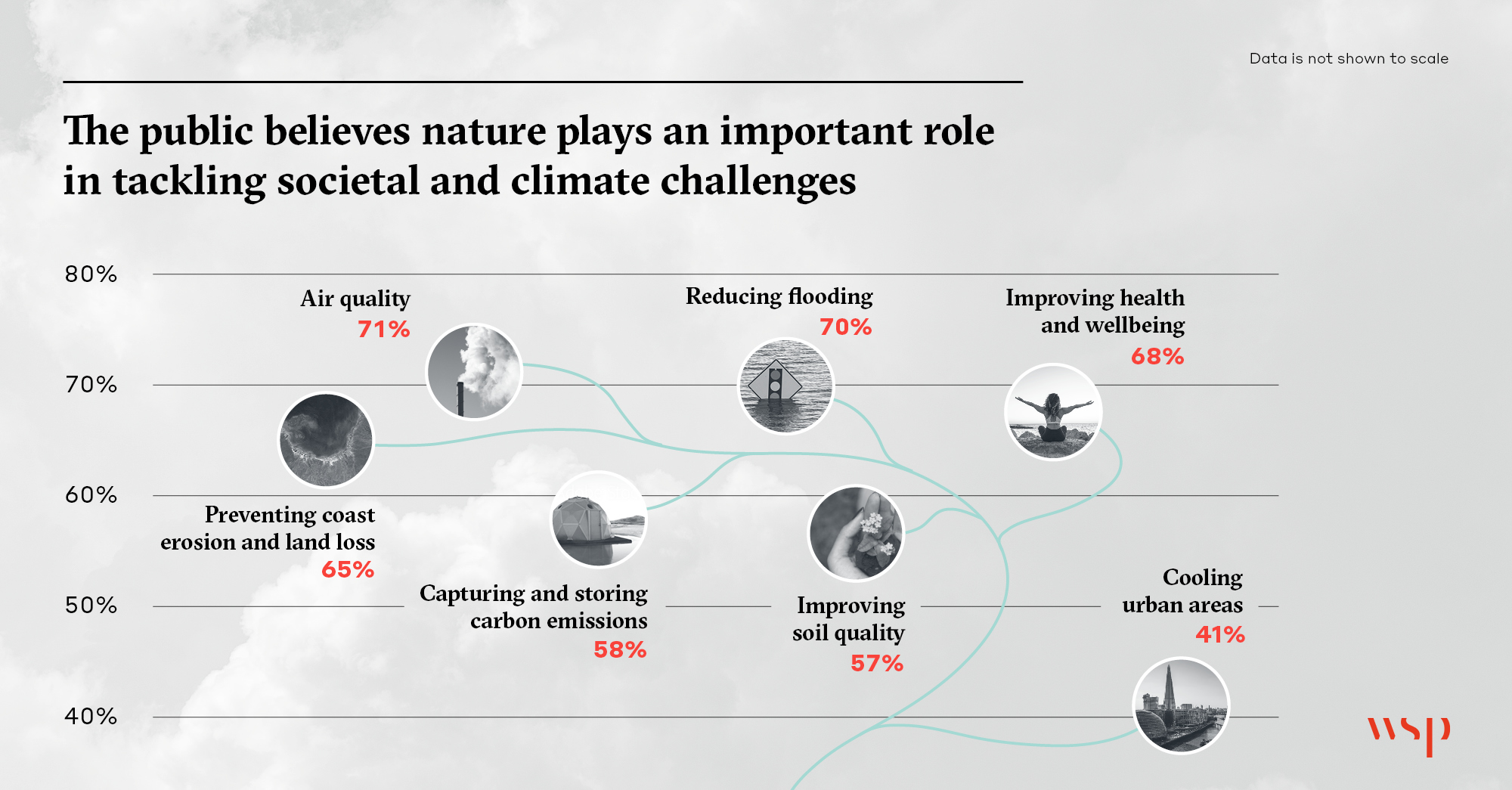 The Environment Bill is certainly ambitious and the over 100 initial amendments to the Bill from the Lords shows even more appetite to protect nature. However, key commitments from the Government such as the 2030 target to reverse species decline do not spare us much time to drive this forward. Indeed, the welcome addition of Biodiversity Net Gain for Nationally Significant Infrastructure Projects will not be mandatory until nearly 2024, giving us only six years until the 2030 target.
Our research showed that people believe businesses have a low expected and low actual responsibility to protect and enhance nature. This was a surprising outcome as be it through corporate policies or the land business own and manage, organisations across a diverse range of sectors have significant impact on biodiversity but also real power to deliver positive benefits for the natural environment. Importantly, they have the opportunity to involve their employees and local communities in that process.
Government at all levels must ensure that all businesses report and disclose their impact on biodiversity in line with the draft targets for the Convention on Biological Diversity, due to be finalised early next year. This ambition will be supported by the Taskforce on Financial Disclosure for Nature and the UK Government has an opportunity to lead by ensuring all large businesses start reporting on their impacts and dependencies on nature.
This will make our businesses more transparent, increase their resilience to market shocks and change, and result in benefits for people and wildlife.
Of course, individuals and communities across the country also have a vital role to play in supporting a positive future for our natural environment, and I firmly believe it is the responsibility of both government and businesses to work with communities to make sure that the benefits we receive from nature are available to everyone, and not just those who can afford it.
All elements of our society have a role to play in reversing biodiversity decline in the UK and internationally, and to work with nature to help tackle climate change – not see them as two different issues. It is only through coordinated and swift action that we will be able to make a real difference and restore the habitats and ecosystems we are all ultimately reliant upon.
Join WSP and Bright Blue at 8am on Monday 4 October during the Conservative Party Conference for a panel discussion on public attitudes towards nature and biodiversity in the UK.
Tom Butterworth is UK Deputy Head of Ecology at WSP, the world's largest environmental consultancy
PoliticsHome Newsletters
Get the inside track on what MPs and Peers are talking about. Sign up to The House's morning email for the latest insight and reaction from Parliamentarians, policy-makers and organisations.