Today marks the start of the Pre-COP summit, the last chance for world leaders to discuss climate change mitigation strategies ahead of the upcoming negotiations at the United Nations Climate Change Conference of the Parties (COP26) in November in Glasgow. If COP26 organisers are serious about meeting the Paris Agreement and "keeping 1.5 degrees alive" to limit the potentially catastrophic impact of global warming, it's crucial that all leading drivers of climate change are acknowledged and addressed. Yet, until now, one topic has remained the cow in the room: intensive animal agriculture.
Responsible for nearly 60% of greenhouse gas (GHG) emissions from food production, animal agriculture represents 14.5-16.5% of all man-made GHG emissions. This makes farming animals for food the world's second largest GHG emitter, on par with all forms of transport globally combined. As a leading cause of habitat loss, water pollution, soil degradation and rainforest destruction, it is also driving the biodiversity crisis we face.
The science is clear: shifting to plant-rich diets is one of the most effective climate-mitigation measures and provides multiple benefits for human health and wellbeing, biodiversity and nature recovery, animal welfare, as well as opportunities for sustainable economic growth. In 2021, the UN Environment Programme found that transforming diets to derive more protein from plants and less from animals has the potential to cut annual GHG emissions by up to 20% of current emissions.  
For the UK, the Climate Change Committee has recognised that "an accelerated shift in diets away from meat and dairy products" is "particularly important" to achieve our net zero emissions goal, and has called for a reduction in meat and dairy consumption of 20% by 2030, increasing to 35% by 2050, with clear government policies needed to encourage that shift. In June, the National Food Strategy recommended that Brits reduce meat consumption by 30%, by 2032.
Having established what a sustainable food system should look like, and with an ambitious net zero emissions target to meet, there is a unique opportunity for our government as COP26 hosts to provide climate leadership by including animal agriculture in these critical discussions for the first time.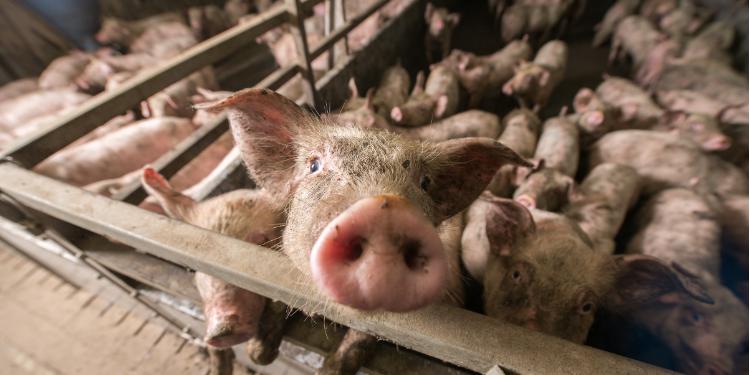 Humane Society International (HSI) is campaigning for intensive animal agriculture to feature prominently in strategies to combat climate change and future-proof our food system. Alongside more than 50 global animal protection, environmental and food justice organisations, we have urged COP26 President the Rt. Hon. Alok Sharma MP to publicly recognise the catastrophic climate impact of intensive animal agriculture. We are engaging with cross-party MPs and peers to join this call and to show their support by pledging to choose a more climate-friendly diet before the summit's conclusion.
We need to be clear: acknowledging the cow in the room does not imply taking a stand against farmers, it is a call to work with and support them. The farming sector is highly vulnerable to many environmental factors linked to global warming, which are already impacting global food production and security.
We urgently need food and agricultural policies that accelerate and reward a decisive shift away from intensive animal agriculture and towards more diverse and regenerative food production, and that support farmers in a just transition towards a food system that is better for people, animals and the environment. The success of green innovation leaders like Hodmedod's shows the business opportunity to grow indigenous pulses and grains, climate-friendly crops that improve soil health and enable British farmers to supply the growing demand for plant proteins.  
Changes are also underway in the foodservice sector, with the UK's major catering companies, like Sodexo, supported by HSI's Forward Food campaign, planning to make 25-30% of menus plant-based by 2025. The thriving demand for plant-based food in hospitality and retail has boosted UK meat-free sales by 40% between 2014 and 2019 and the sector is expected to exceed £1.1b by 2024. To meet the soaring demand for oat drinks, Oatly plans to open one of the world's biggest plant-based drinks factories in Peterborough by 2023. Meanwhile, the global annual market for alternative meat, egg, dairy and seafood products is predicted to reach at least $290bn (£210bn) by 2035.
Diet change to combat climate change is already happening, and whilst it is encouraging to see Ministers such as Business Secretary Kwasi Kwarteng acknowledge that plant-based dietary shifts made by individuals will help us achieve GHG reduction targets, at this critical juncture, country leaders cannot rely on individuals and the corporate sector to make the transition alone.
Through its Presidency of COP26, and in its response to the National Food Strategy, the Government needs to adopt a bold and proactive policy approach that supports and catalyses plant-centric dietary shifts across the whole supply chain, from farmer to consumer. Our climate and nature crisis, and our collective ambition to build resilient and fair food systems, demands that governments stop ignoring the cow in the room.
 
Claire Bass is Executive Director at Humane Society International UK.
PoliticsHome Newsletters
Get the inside track on what MPs and Peers are talking about. Sign up to The House's morning email for the latest insight and reaction from Parliamentarians, policy-makers and organisations.