The future of the nuclear industry is in good hands and well placed to help Britain face some of its biggest challenges.
It has been a busy time for the British nuclear sector. This month, representatives from companies across the profession gathered in Westminster for the Nuclear Industry Association's 'Nuclear Week in Parliament', outlining ambitious plans over the coming years – none bigger than the goal of helping the UK reach net zero by 2050.
Pivotal to the nuclear industry's contribution to net zero is equipping the next generation with the skills to make this a reality. It was therefore significant that a key aspect of this year's 'Nuclear Week in Parliament' was the 'Skills & Apprenticeships Fair', paying tribute to and learning from the many graduates and apprentices who are having a major impact in the industry. 
As a leading member of the Nuclear Decommissioning Authority, Sellafield Ltd is proud to have over 520 apprentices and 122 graduates integrated within its organisation. They are particularly pleased that one of them, Katie Wightman (pictured below with Trudy Harrison MP), was recently awarded NSAN UK Nuclear Apprentice of the Year.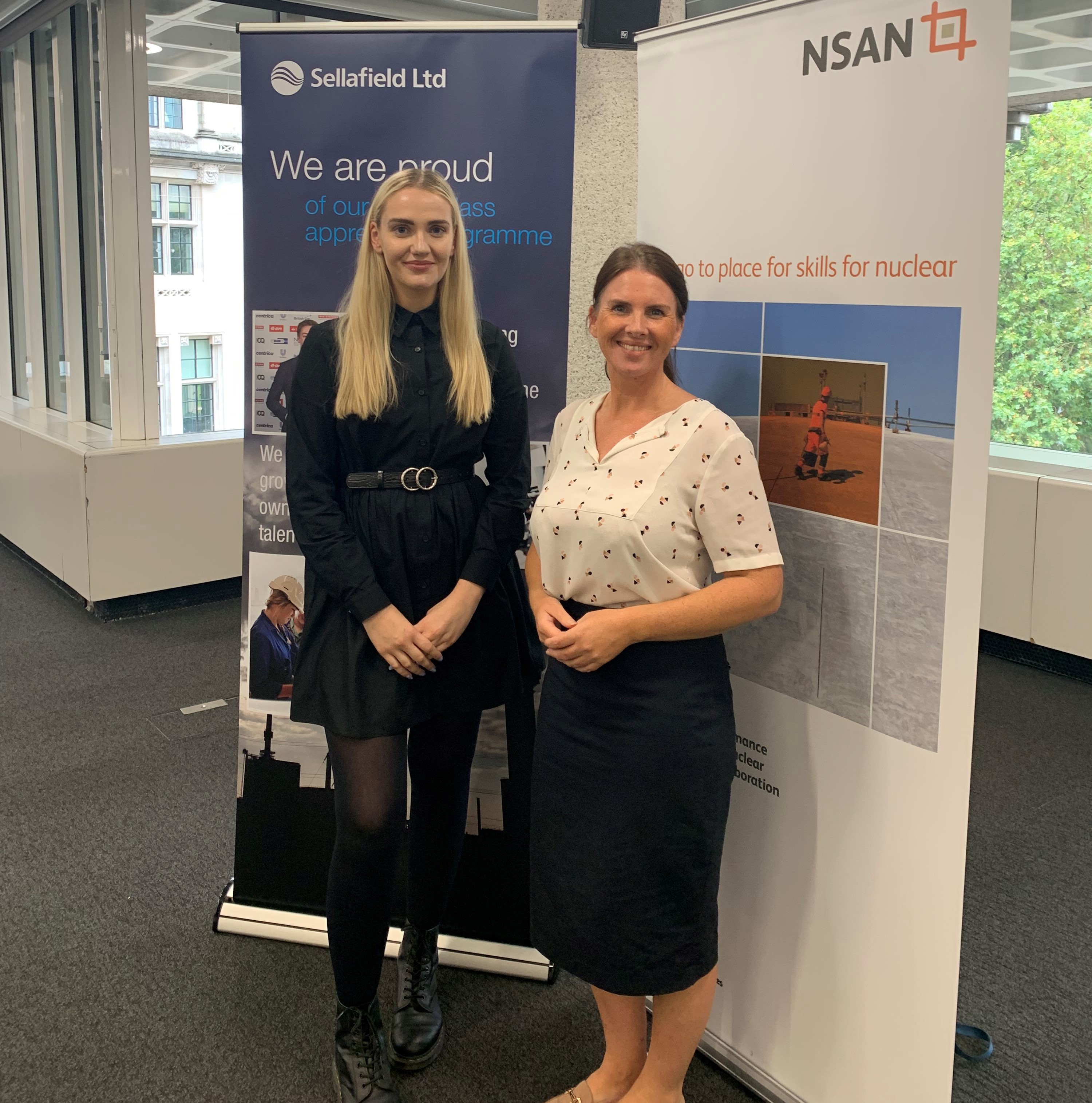 Speaking during her keynote speech at the 'Skills & Apprenticeships Fair', Katie said:
"Starting an apprenticeship was the best decision I have ever made. It has opened a lot of doors for me; I have learned from so many amazing role models and I would now like to be a role model for others."
Early career professionals like Katie are making a real difference to the way Sellafield works every day, from helping to safely and securely operate and clean-up Britain's largest nuclear site, to pioneering the newest technology in AI and Robotics – which is making their mission successful. They are testament to what a rewarding career in nuclear decommissioning looks like.
Chief Executive of the Nuclear Decommissioning Authority, David Peattie, said:
"Nuclear decommissioning is a dynamic and forward-looking industry, which provides an unrivalled range of career opportunities for people across the whole of the UK.
"I'm extremely proud of our graduates and apprentices and I'm inspired by the passion they show when they talk about their work in the NDA group. I'm certain this enthusiasm will encourage the next generation to pursue a career in nuclear decommissioning."
Jamie Reed, Head of Corporate Affairs, Sellafield Ltd said:
"At Sellafield we're creating a clean environment for future generations and this requires graduates and apprenticeships across a range of areas, whether engineering, robotics or AI. Not only will this be of huge importance to our work but also to the economies of those communities closest to our areas of work in west Cumbria and Warrington."
This sentiment is echoed by parliamentarians who recognise the value of a career in nuclear. When asked at the 'Skills & Apprenticeships Fair' about the impact that young people are having on the industry and how the sector can get more through the door, Trudy Harrison MP, who has many thousands of people employed in nuclear in her Copeland constituency, said "the focus on diversity and inclusion is working".
She added:
"As long as we continue to invest in nuclear such as research and development, artificial intelligence, robotics for future decommissioning, I do not think we will have a problem recruiting into the nuclear industry.
"Just listening to the bright and shining examples of the future here, both apprentices and graduates from a number of different companies, many of which are based in my Copeland constituency, it's incredibly inspiring. It's the Best of British."
Companies such as Sellafield are also playing a key role in creating regional powerhouses with sustainability at its heart and built on a diverse and inclusive workforce. Their work in Cumbria is proof of this on the ground.
Echoing this, Harrison said Sellafield's work in the community is vital "because it means that parents and grandparents and aunties and uncles and teachers are recommending a future career… in the nuclear sector".
Expanding on this, she added:
"The nuclear industry is a crucial investment for a green sustainable future".
PoliticsHome Newsletters
Get the inside track on what MPs and Peers are talking about. Sign up to The House's morning email for the latest insight and reaction from Parliamentarians, policy-makers and organisations.